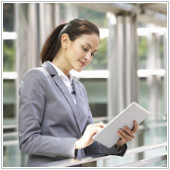 Whether you're considering a new tablet as a gift for a loved one or are interested in decking out your offices with a couple dozen of them, the iPad Pro is worth your consideration. With the ability to use a keyboard as well other new features, this iPad takes a quantum jump ahead of its predecessors. Here are four of its best features that are worth a look.
Stunning display
The iPad Pro's display makes images look pretty, one of the reasons Apple is touting it as the go-to device for graphic work. It offers a 2732 x 2048 resolution, with 264 pixels per inch – more than either the 13- or 15-inch Macbook Pro. This is certainly one of the best features of the iPad Pro, and a technological achievement for Apple.
Better battery
When it comes to battery life, the iPad Pro ranks fairly high compared to other tablets. While many tablets offer eight hours of battery life on a charge, the iPad Pro chimes in at a max of 10 hours. The reason for this slightly longer life has a lot to do with the display. The screen operates at 60Hz when there is animation running; however, when you're performing other tasks, like scrolling through web pages or reading an eBook, the screen reduces the amount of energy it consumes and instead runs at 30Hz. Because of this, 10 hours of battery life is a genuine possibility. Of course, though, if you end up watching videos on it all day then it certainly won't last as long.
Sensitive stylus
There's no arguing – at $99, the Apple Pencil is expensive. Price aside, though, it is a really nice tool that is capable of creating high-quality images. Two areas in which it excels are pressure sensitivity and tilt detection, both of which allow you to add shading like you would with a real pencil. It's also worth noting that the stylus does not use Bluetooth connectivity. Instead, the iPad Pro can tell when the stylus is close to the display and scans for "tip signal". All this adds up to is a drawing experience that is as close to using a real pencil and paper as you can get.
The new Keyboard
The fact that the iPad finally has a keyboard brings this device into a whole new realm of tablet – one that can arguably become a laptop replacement. And while not perfect, it performs just as well as a regular keyboard, and is also quite comfortable to the touch, covered in a woven fabric that is easy to clean. As for drawbacks, it can only be propped up at one angle, which can make it uncomfortable to work with when you don't have a desk or table to set it on. And like the stylus, the keyboard does not come cheap; it's priced at a whopping $169.
Is this a laptop replacement?
Yes, it could be. But make no mistake that the iPad Pro isn't capable of doing everything your Macbook Pro can. Because it runs on iOS 9, you will not be able to use all the same applications you would on your Macbook, and you will have no file access. Additionally, the iPad Pro only includes two ports – a Lightning connector and a headphone jack. So while you could potentially use the iPad Pro as a laptop replacement, you will be limited in terms of functionality if you choose to do so.
If you're interested in learning more about the iPad Pro, or are ready to deck out your offices with some brand new IT, call us today to learn how we can help you.
Published with permission from TechAdvisory.org.
Source.