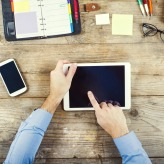 Choosing an app for your Android tablet can be daunting. Whether you're looking for a document reader app or a new web browser, there are many options out there that offer similar features. So how do you know which ones are the best fit for your device? We've compiled a list of powerful applications that will help you make the most of your Android tablet. Check them out and save yourself from browsing through hundreds of thousands of apps in the store.
Adobe apps
Adobe offers a suite of apps for Android tablets, including the Acrobat Reader, Photoshop, Illustrator, Premiere Clip, AIR, and so much more. These are all very useful for processing images, opening documents, and editing files. If you happen to be a user, most of the Adobe apps also work well with Creative Cloud.
Flipboard
Flipboard is a popular news application that uses a magazine-style interface. This app allows you to stay up-to-date with news and topics you're interested in. You can easily customize your news digest from your favorite sources, such as Facebook, Twitter, RSS feeds, The New York Times, and more.
Google Drive
With Google Drive, you gain access to a suite of powerful apps including Google Docs, Google Sheets, Google Slides, Google Keep and much more. Google Drive offers 15GB of free storage, which you can use to store all kinds of digital files and access them from anywhere.
Kindle
There are tons of ebook reader apps out there, but few can measure up to Amazon's Kindle app. Kindle provides you with more than a million ebooks to download and read on your Android device. You can also manually download different books in various formats, and then transfer them to an external storage device.
CamScanner
This nifty application allows you to use your Android tablet's camera to scan documents such as invoices, forms, and receipts, and have them exported in PDF format. You can store, sync, and collaborate on these documents across any number of web-enabled devices. The app also comes with support for fax sending, OCR, printing, and more.
LastPass
We get it – you have numerous accounts for social networks, apps and websites, and memorizing all of your passwords can be confusing. LastPass is a password management application that will securely store your passwords, and automatically log you into various apps and websites. With LastPass, you don't have to remember every password you use.
Zedge
Zedge is a search engine for downloading ringtones, notification sounds, wallpapers, and themes. It is a good place to start if you're looking to customize the look and feel of your device in order to give it a personal touch. It's super popular among Android tablet users, with millions of freebies available and a simple user interface.
These applications are far from being a comprehensive list, but they can help optimize the performance of your device. If you want to learn how to use Android tablets to boost your business's efficiency, give us a call today.
Published with permission from TechAdvisory.org.
Source.