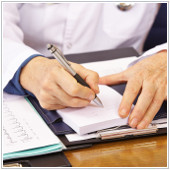 A recent initiative to give healthcare patients access to the notes their doctor or clinician writes about their visit is continuing its meteoric rise across the country. OpenNotes began a few years ago by researching the benefits of allowing patients to have access to their doctor's notes. Since that initial study, the number of healthcare providers who have agreed to sign on has steadily risen. What is this service and how does it work? Let's find out.
What is OpenNotes?
OpenNotes allows patients to view their nurse's and doctor's notes via online portals that can be accessed from home computers, tablets, or smart phones. Patients receive notifications whenever their doctor adds or modifies a note, a prescription refill is needed, or a follow up appointment is requested. Under the initial study performed by OpenNotes, 99 percent of patients opted to continue using the service, and 100 percent of doctors agreed to continue providing their notes to the patients.
Advocates believe that increasing communication, in this case electronically, results in patients who are "active partners in their care". Over the years, reaching outside of the doctor's office and into a patient's smartphone or computer has resulted in improved medication adherence and reduced the number of note errors. Currently the service claims 7 million patients are in their network.
Is it secure?
All of that sounds great, but how safe is the information that's being sent back and forth? A recent study by Carestream about patient perceptions of online portals found that, of the respondents who reported an aversion to using the service, the biggest concern (by a very large margin) was security and privacy. The OpenNotes website and press releases try to assuage these concerns by pledging their support during onboarding, but unfortunately threats come in all shapes and sizes nowadays. Often software that requires a lot of security is only as good as the hardware and the protocols you assign to it, and those may be outside of the scope of OpenNotes support staff. Additionally, there is a push for multiple providers to share a single online portal so patients only need one login. With all of this in mind, and the recent string of ransomware attacks on healthcare data, the possibility of an attack is greater than ever before.
Should your practice adopt OpenNotes?
Currently, that decision still depends on the dynamics specific to your practice. However, with more and more providers signing on to OpenNotes, and the government inching toward mandating healthcare information sharing, your network needs to be ready for integration. The healthcare sector has been at the forefront of data collection, and implementing online patient portals of any kind, OpenNotes or otherwise, means a massive increase in online exposure.
OpenNotes has stated that their goal is for 50 million patients to be a part of their network within the next three years. Regardless of whether your practice decides to help them reach that goal, or not, protecting your data needs to be a top priority. For questions and concerns about data security and implementing online patient portals, give us a call.
Published with permission from TechAdvisory.org.
Source.