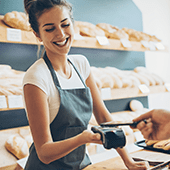 Apple Pay is a way for iPhone and iWatch users to make credit card payments using only their mobile device. Although it's incredibly simple to use, some small businesses are worried about whether accepting these digital payments will add to their data security burdens. However, once you understand how it works, you'll see just how easy it is to manage.
How does it work?
Credit card transactions are more complicated than most people realize. There are a few middlemen between the merchant you purchase from and the bank that issues your credit card. Apple Pay simplifies the payment process by reducing the number of middlemen who have access to credit card numbers.
When you add a new card to the digital wallet on your mobile device, Apple works with the card issuer to create something called a Device Account Number (DAN). Once the DAN has been stored on your phone, with your bank, and on Apple's servers — Apple erases your credit card number from its database.
To make a payment at a merchant that accepts Apple Pay, you place your phone near the payment terminal and your iPhone or iWatch will transmit your DAN over an encrypted connection (after scanning your fingerprint).
The merchant sends the purchase amount, your DAN, and a unique transaction code to the bank to be approved and checked against the records saved on your phone.
The time it takes to request authorization and approve the transaction is on par with swiping the magnetic strip in your wallet, but keeps your credit card number out of the merchant's recorded history. And even if hackers were to decrypt and steal your DAN, it is totally useless without your fingerprint.
What do businesses need to accept Apple Pay?
All that is required to process a transaction is a payment terminal with Near Field Technology (NFC), which allows your phone to transmit encrypted information wirelessly. Apple Pay transaction fees are quite a bit lower than those of traditional card readers and NFC terminals range from $300-$500. Depending on what you sell, this method could pay for itself in a matter of months.
Aside from installation and integration with your existing sales and accounting software, Apple Pay requires little to no IT support. As an SMB ourselves, we view it as a way to improve the customer experience — and that's what we care about most. If you need help with more technical support issues related to Apple products — just give us a call today.
Published with permission from TechAdvisory.org.
Source.