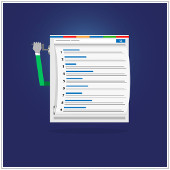 It doesn't matter if you're a newbie or an expert in search engine optimization, the field changes so often that it can feel like trying to hold water in the palm of your hands. That can be pretty frustrating since businesses of any size and age need to get people to their sites in order to really grow in our web-driven culture. Thankfully, there are a few tried and true methods for improving your position in Google's index and we've listed the best four below.
Make sure that you're indexed by Google
This is the first, and simplest step. Go to Google.com and search 'site:' with your website domain listed after the colon (example: 'site:acme.com'). If you don't see any results from your page listed, that means Google hasn't even added your site to its search results yet. Although some advisers recommend filling out a request form that Google offers, there is a much faster way to get recognized by the search giant.
Google is constantly scanning web pages for updates in content to include in their search results. As soon as they see a link to an external site on one of their already indexed pages, Google will add that link to the queue of new sites to be scanned and indexed. Feel free to fill out the form, but you'll probably be waiting a long time. If you can get your domain name linked on a popular or trusted page, you'll start seeing your page in the search results in no time.
Now go out and get more links
Alright, so your site is showing up in Google's search results — on the third or fourth page. Pretty much the only people making it that far into search results are students writing papers at 4 a.m., desperately looking for barely-related citations to pad out a bibliography. In this particular situation, we're lucky enough that the solution is more of the same from step 1. The more links to your site from external pages, the higher you climb in the search results.
Other than getting affiliate businesses to link you on their pages, consider managing a blog or RSS feed. Content generation not only promotes interest and traffic in your site, it also opens up the opportunity for you to submit yourself to blog directories like Technorati and Alltop that compile source material and get you those external links.
Fine tune your content
After you've spent some time generating traffic to your site from links on external sites, it's time to put a magnifying glass over your own site and start perfecting the little things. For starters, make sure Google has your .xml sitemap on file. It'll help any content updates on your site get pushed to the indexes a little bit faster and improve your ranking. Head over to Google's Webmaster Tools to submit your sitemap.
Once your site has been indexed, be very careful not to change any of your core 'permalinks'. If users have links that direct them to pages that can't be found, it could knock you pretty far down the ladder. Keep your pages live, and keep them named efficiently. Some website platforms, like WordPress, use default link structures that create complicated, number-based links that can be off-putting to users and confusing to administrators and search engine indexers. If possible, make sure your links use category and page title references for more appealing links and organizational structure.
Measure and track your ranking
All the points listed in this article are ongoing projects. Just because you believe your site has achieved a desirable ranking on Google doesn't mean it will stay there. Keep an eye on where it stands and never let yourself get lazy with your content production, site management and SEO monitoring — it could mean the difference between moving up the search page, and disappearing from it altogether. Online tools like Cyfe and give you a more in-depth look at your site traffic and external links so you're always ahead of the competition.
Optimizing your Google page indexing is a little like visiting an auction house where everyone has a megaphone and a bigger budget than you. Some designers spend countless hours becoming experts on this specific topic and market their services to a wider audience. Sure, a truly great and well-reviewed business is going to generate a lot of organic traffic, but why not call one of those experts to give you the boost you need? We've got the skills and the time to sit down with you and get your site moving up the ladder.
Published with permission from TechAdvisory.org.
Source.