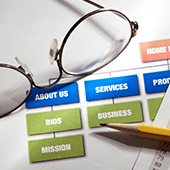 Google Sites, one of Google's lesser-known applications, allows businesses to intra-company create websites in minutes. Previously, G Suite account owners used it to design websites using simple templates. But with new enhancements to Google Sites, users have even more design options and features.
Simplified interface
Previous editions of Google Sites had plenty of complex and unnecessary features, which overwhelmed some users. In the latest version, the interface is much easier to use, thanks to a single-column layout and no sidebar in the work area. It also has simplified navigation menu options (top or side menu) and page headers (plain banner, large banner, title-only) that display nicely on desktop and mobile devices.
Easier content embedding
The latest version makes it much easier to add links. When embedding external content, users have the option to show or hide the link's featured image, link title, and description. In case a link doesn't embed successfully, Sites will at least show the content's URL.
You can also conveniently add content from your Google Drive, whether it's Docs, Videos, Forms, Slides, or Sheets. Visitors can preview this content while hovering their cursor over the link. And like the previous Google Sites, this feature is integrated with Google apps, Calendar, Maps, and YouTube.
Simultaneous site creation
If you've ever used Google Docs or Sheets, you know the convenience it offers when working on a single file. In the new version of Sites, multiple users can work on a single website project without having to deal with the complicated permission settings in the old version. This feature allows for easier collaboration and faster website completion times.
More customizable sections
It's not a matter of if, but when you're going to want to make changes to your website. For example, you might want to switch the position of certain images. Using Google Sites, you'll be able to do this effortlessly.
There are easy-to-follow grid lines that guide users in moving their site's content sections up or down. It's also easier to resize content frames so that a page's elements (e.g., an image, a Sheets file) can be easily adjusted depending on your preferences.
You can also make some changes on content images' backgrounds either by adding an image or changing the background color to white, gray or black. What's more, if you choose to implement the helpful auto-enhance feature, it will make quick adjustments to your backgrounds.
The new Google Sites also introduces a significant improvement in its publish settings. Users now have to choose only either public or private. Previously, the app made users run through several options for setting access permissions on a page-level; now, an admin has to choose only between sharing the website publicly and sharing it internally.
Needless to say, if you're using G Suite, Google Sites should be in the list of tools. But regardless of which apps your company uses, there are plenty of little-known features out there that could help you work more efficiently and productively. Our technology consultants can help — call us today.
Published with permission from TechAdvisory.org.
Source.