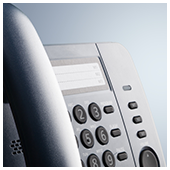 When you run a business, having multiple communications streams and programs can be incredibly challenging and difficult. However, with Unified Communications (UC), there may be a way to combine all those communication streams into one. However, you may wonder about the pros and cons of UC. Before you choose a system, explore some of these benefits and drawbacks by learning more and then contact us with questions or to get information about how to transition to UC.
Understanding UC is important to understanding the pros and cons of this communications platform. Essentially, UC is the use of service, software, and equipment that creates a communications system that is fully integrated and centralized. This allows for phone calls, emails, video conferencing, calendars, and the like to be accessible on one system alone.
Pros of UC
There are numerous benefits of choosing a UC system over a non-integrated, disjointed communications system. One is that all people involved in the business process — from bosses and employees, to vendors, customers, and other business associates or partners — can access the same information and quickly and easily communicate with one another one-on-one or in groups.
VoIP UC makes it possible to receive phone calls through a computer, have them pushed to a mobile phone, and even get copies of voicemails and information about callers on the computer. Essentially, everything runs through the internet and wireless communications.
Additionally, mobile technologies can more easily be used to bring work groups together and make employees as productive as possible wherever they are. This means that virtual conference calls and meetings are possible and can be an important tool in the process of doing business. UC also save employees and other business associates a great deal of time and can improve productivity.
And then there is the issue of cost. UC can save businesses money in the short- and long-term by making it possible to telecommute, have meetings over great distances, and make work hours more productive overall.
Cons of UC
Of course, no business change or decision is without potential drawbacks. The initial overall cost of switching to a UC system can be high because of the software, equipment, and training needed. Already accustomed to existing systems, some employees might resist adopting a new technology. And other employees, considering their unique roles in the company, might think the new communications system irrelevant to them and so see little benefit to it.
Better understanding these potential benefits and drawbacks to UC can help you decide what is right for your business. Contact us if you have any questions or if you are ready to begin using VoIP UC processes in your business.
Published with permission from TechAdvisory.org.
Source.