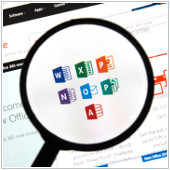 For a long stretch of time, the relationship between Apple's iPhone and Microsoft's Office suite wasn't great. The screen was too cramped for efficient document-creation and the processors were too slow to support the multitude of functions. Fast forward to present day, and those grievances have mostly been taken care of. What iPhone owners are left with is an increasingly pleasant and worthwhile mobile solution to Microsoft's productivity software. The most recent update packs two wonderful new features, and we think they should get the attention they deserve.
Create OneDrive documents from your iPhone
Previous to the most recent update, iPhone users were forced to create documents in the native Office app, save them, and upload them to OneDrive to enjoy cloud storage. Otherwise, only preexisting documents were visible in the OneDrive app. This scope was extremely limited compared with what the software could accomplish in other mediums, which added several annoying steps.
By updating OneDrive on your iPhone, the simple addition of one button eliminates all those unnecessary steps. Proudly displaying itself in the upper-right-hand corner, tapping the '+' provides you with a list of options for creating a new document. A word of warning — when you select the type of document you want to create, it will still need to open the corresponding application (Word, Excel, or PowerPoint), so make sure those are already installed on your iPhone. But once open, there is no need to upload it manually; the document has already been created and saved in your OneDrive.
Drawing for Office documents
The updates covered here actually take place in two separate applications, and the second is within the Office for iPhone app itself. Let's say you're on the way to a meeting while reviewing a spreadsheet on a mobile device written by a colleague. You want to highlight an oddly shaped dataset and make a note on it for the presentation, but the only way to accomplish this is by changing the colors of the cell and typing the note in an adjacent cell. Sure, it works, but it ain't pretty.
Similar to the function that already exists on iPad and Windows tablets, the iPhone now comes with a 'Draw' tab to add to a document as if you were writing on top of a physical using a pen or highlighter. Start by popping over to the Edit menu, click on Home, and finally Draw. From there, you have the option to select either a pen or a highlighter for the desired effect — and you're all ready to add a handwritten touch to the document!
The iPhone has proven time and again to be one of the best options for a workplace mobile device. However, appropriating it as such comes with a number of concerns regarding configuration, security, and efficiency. If you're looking for help with these, or other new and exciting ways to beef up your iPhone productivity, call us today — we'll have you fixed up faster than you can handwrite 'Sign me up!'
Published with permission from TechAdvisory.org.
Source.