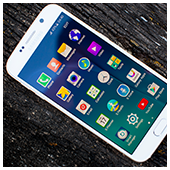 When moving from one Android phone to another, how smoothly you are able to migrate contacts and settings often ends up determining how happy you are with the new phone. Even though there's more than one way to go about it, each approach is a simple affair. Check them out.
Backing up to Google
Google's free services are so tightly integrated with the Android operating system that it would be crazy not to sign up for a Google account. If you do have one, it's usually the easiest way to migrate your contacts between phones.
Open the Settings application on your phone.
Scroll down and select Accounts (depending on the phone manufacturer it may be labeled something slightly different).
Tap Google.
Select your preferred Gmail address.
Enable Sync Contacts and select Sync Now at the bottom of the screen.
Visit google.com/contacts and confirm that everyone is there.
Good, from this moment on contacts from that phone will automatically be synced to your preferred Google account. Then all you need to do is add that account to your new phone.
Return to the Account window in your settings app (step #2 above).
Scroll to the bottom and select Add account.
Choose Google and enter your account login information.
Open the settings window for that account (step #4 above).
Select Sync Contacts.
That's it! The first set of instructions exports contacts from your old phone to Google.com, and the second set downloads them to your new phone.
Backing up to your SIM card
SIM cards are how your cellular provider keeps track of your phone number and who you are. If you're lucky, you can just pop your existing SIM into your new phone and the majority your data will move with it. Double-check that'll happen with these steps:
Open your Contacts application (sometimes named People).
Tap the More option (sometimes this is three dots stacked vertically).
Select Import/Export.
Choose Export to SIM and pick which information you want to store on the SIM card.
Once that's finished, everything should be downloaded to the new phone as soon as you plug in the SIM card!
Using a third-party app
Verified apps, downloaded from the Google Play store, further simplify this process if you're willing to go through the hassle of choosing one of the dozens of options. If you pick this approach, most apps are no more complicated than a checklist of which contacts you want to transfer with a Send button at the bottom. As long as you've installed the app on your new phone as well, and linked the two with a password, that's all it takes.
Contact migration sounds easy enough, but it's no simple task if you've got an entire fleet of company phones to migrate. Our fully-managed solutions cover all your Android needs, and if you'd rather we take care of some menial task, we can do it in no time. Just drop us a line to find out more!
Published with permission from TechAdvisory.org.
Source.