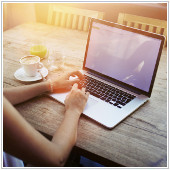 Computers have enabled us to become more productive than ever. With last years' release of Mac's OS El Capitan, there are a number of productivity tools that many people may be completely unaware of. Today, we're going to share with you some of those tools, in hopes that you and your entire staff will be able to take your productivity up a notch.
New makeover for Notes
In El Capitan, the Notes application has undergone a major makeover. While you may have once thought, "what's the purpose of this useless application?" now it can be a serious productivity tool. Three of its improvements that can help your productivity are its ability to let you create checklists and folders, add attachments, and sync with your phone.
If you're an iPhone user who has kept up with iOS updates, then you may very well already know of Notes' ability to add checklists on your phone. You may not know, however, that you can also do this on El Capitan. Obviously, adding a checklist gives you a quick way to keep track of, and on top of, the tasks you complete. And in addition to this nifty function, Notes has also added folders. Folders eliminate the annoyance of having to scroll through a long list to view all your notes, and instead enables you to better organize and find them more easily. To create folders, click on the View menu in the Notes application, select Show Folders, and then click the + symbol in the bottom left corner of the application.
It's also worth noting (no pun intended), you can now add attachments to your notes. To do this, simply drag a file into your desired note. And if you're also an iPhone or iPad user, you'll be happy to know you can sync your notes across all your Apple devices.
Safari updates
Apple's beloved browser has also gotten a few productivity updates. If you've ever landed on a website to all of a sudden be bombarded with the sound of an unwanted advertisement or music playing, you know how frustrating it can be as you frantically search for a button to shut up the noise. Now, you no longer have to let this annoyance drag you down, as El Capitan's new Safari makes it easy to silence it. Whenever a noise starts to play on a website, a speaker icon displays on the browser tab. All you have to do is click the icon to mute the sound.
Another handy feature of Safari is that it's now easier than ever to switch between tabs on your browser. To do so, simply click command, plus the number of the tab you wish to view. The tab on the left of your screen is number one, the tab to the right of it is two, and so on. For example, if you want to quickly move from tab one to tab three, simply click command>3. This keystroke feature enables you to move to your desired tab without ever moving your mouse.
Find open files fast
When you have a number of documents or applications open on your desktop, you can quickly become lost searching for your desired file. Now, El Capitan has easily resolved this issue. All you have to do is hit one button: F3, which opens up Exposé mode. Whereas in Yosemite's Exposé mode, you'd see all these documents and apps stacked on top of another, in El Capitan they're instead laid out on your display in a minimized form. It is easy to find the file you're looking for instantly.
We hope that you'll find these simple El Capitan productivity tips as useful and fun as we do. If you'd like to learn more of them, or need help with any Apple IT related issue, don't hesitate to send us a message.
Published with permission from TechAdvisory.org.
Source.