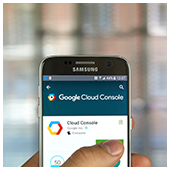 Google Cloud Search is the latest tool launched for business customers that allow users to search across their G Suite products including Drive, Gmail, Sites, Calendar, Docs, Contacts and more. It was previously available in a limited preview, named Springboard, and was described as something similar to Google Now for enterprise workers.
Google Cloud Search is designed for larger corporations where different groups and individuals have access to different files. This search engine respects file-sharing permissions, so users can only access what's available to them, whether that's company-wide resources such as a policy manual, team projects or documents only they are able to see.
On top of retrieving work documents, Cloud Search also acts as a directory service that allows users to look for their colleagues' contact information, while simultaneously viewing the events and files they have in common. When viewing a contact's information in the search results, users will be able to click and start an email, phone call, or a Hangout.
Much like Google Now, Google Cloud Search utilizes a card-style design that presents information to you, whether you're accessing the search service through your phone or laptop. Google Search also takes advantage of machine intelligence to highlight information it thinks you need to know. In these "assistant cards", Google Cloud Search will reveal recently accessed files, meeting reminders, notes and more.
Adding machine intelligence to enhance its productivity tools has been Google's recent focus; this goes hand in hand with the G Suite rebranding. In fact, the company announced a number of machine-powered features such as "Quick Access" in Drive that predicts which file you need before you even begin typing. According to Google, this reduces up to 50 percent off the average time to locate the right file.
The goal of this predictive search service via Google Cloud Search is to offer a productivity boost for G Suite users. Google notes in this blog post announcing Cloud Search, that workers spend 20 percent of their week searching for and consolidating information; the new service aims to reduce that figure. Google Cloud Search is now rolling out to new customers using G Suite Business and Enterprise editions, Google plans on introducing more features and will integrate with third-party applications.
By knowing how to leverage the latest technologies to your advantage, not only will you get a leg up on the competition, you'll also streamline work processes and drive greater revenue. For further questions or more information, feel free to give us a call or send us an email anytime!
Published with permission from TechAdvisory.org.
Source.