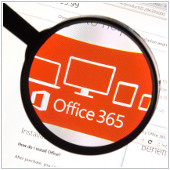 While many Office 365 users know the service can boost their company's productivity, many aren't utilizing it to its full potential. There are several key principles and tips that can make the service even more productive. So to help you get the most out of Office 365, here are some tips to follow.
Get all staff onboard
To maximize your company's productivity on Office 365, every employee that uses a computer needs to utilize it. While this may sound easier said than done, you can encourage company-wide use by getting the leaders of your company to use it first. When your executives, managers and top employees are all using and promoting Office 365, it sets a good example that will help persuade all employees to fall in line.
Train employees
If your employees don't know how to use Office 365, you will see little gains in productivity, and the cloud service becomes a wasted investment. This is why training is absolutely vital. Teach your staff all the ins and outs of the platform, so they can take full advantage of it.
One way to efficiently train your staff is to create or gather a series of short training videos, only a few minute in length. Shorter videos are easy to digest for your employees and help them retain the info. Best of all, they can be reviewed again and again, and used for all employees. This saves time for management, who is often responsible for employee training.
Utilize core tools
When you first implemented Office 365, what sold you on it? Likely it was the fact that it increases staff productivity by allowing them to work and collaborate from anywhere. So if you're not yet utilizing the tools that enables them to do that, there's no better time than now to get started.
Some of the core tools that enable you and your staff to become more productive and work from anywhere are OneDrive for Business (OD4B), SharePoint and Skype for Business. OD4B and SharePoint enable your staff to upload and save documents to a virtual drive, share that document with another group or user, and then edit it at the same time. This gives you and your employees the ability to access that document from anywhere, and essentially work from anywhere. Skype for Business also enhances productivity by creating a more flexible communication channel. Employees, colleagues and customers, can communicate easily wherever they may be in the world. From online meetings, to conference calls, video calls and instant messaging, you have a wealth of options for instant communication.
Don't forget security
Not only can a security breach cost you money, but it can also destroy your employees productivity. While Office 365 already has security built in with Azure Active Directory, you should still be cautious of what files you add and share on the service. If you do upload files with sensitive company information to the platform, it's wise to keep them under you or your executives direct control.
These four productivity tips should help your business make the most out of Office 365. If you'd like more ideas on how to better utilize the platform, make it more secure or need additional training, give us a call. We are happy to share our expertise for your maximum gain.
Published with permission from TechAdvisory.org.
Source.