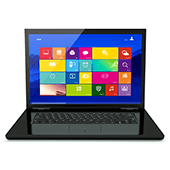 Bloatware, trialware, crapware — the unnecessary software usually pre-installed by the manufacturer on your brand new PC. Besides being annoying, this type of software also slows down your machine and can tamper with security. Microsoft is fed up with it too, which is why they've come up with Windows 10 Signature Edition PCs. Read on to find out more.
What are Windows 10 Signature Edition PCs?
Microsoft Windows 10 Signature Edition is a new generation of specially configured PCs that are clear of junkware, which is unnecessary software pre-installed by PC manufacturers on new PCs. Microsoft is aiming to provide users with cleaner, more optimized PCs.
What's tempting about them?
They are cleaner. It's undeniable that PCs devoid of aggressive attempts to lure you to pay for upgrades is a more pleasant user experience. No more annoyances, no more need to spend time manually uninstalling unnecessary programs yourself.
They are faster. Once PCs are clear of third-party junkware, they'll load quicker, whether you need to boot, shutdown, sleep, or resume working.
They are more secure, according to Microsoft. The Signature Edition PCs boast a built-in firewall and anti-virus and anti-phishing tools that come with ongoing security support and updates throughout their useful lives. What's more, ridding your PC of bloatware means reducing the chances of you clicking on suspicious ads that will make your PC prone to attack.
You can find Signature Edition PCs in Microsoft's brick-and-mortar stores and online, manufactured by leading PC makers such as Dell, Acer, HP, and Lenovo.
Is there any downside?
Possibly, yes. Signature Edition PCs usually cost more than similar machines containing bloatware. This is because bloatware is a source of extra income, and many vendors end up increasing the PC price to make up for the loss.
Another thing to note is that even though the Signature Edition PCs have less third-party software, much of Microsoft's own crapware remains. That includes Candy Crush Soda Saga, Bubble Witch 3 Saga, and Drawboard PDF. The good news is Microsoft bloatware generally doesn't affect a PC's performance unless it is running.
Interested in switching to a cleaner version of Windows, but unsure whether it would be worth it? Before spending your hard-earned money on a piece of hardware, you need to make sure you understand the pros and cons, so why not consult our experts today? They know about computers and can advise you on how to make the right IT investments.
Published with permission from TechAdvisory.org.
Source.