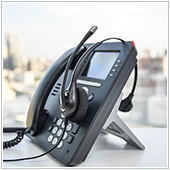 Do you want to cut long-distance costs and streamline your business? There is a remedy. With Voice over Internet Protocol (VoIP), you can improve your business operations, cut costs and add flexibility to your business telephony. This technology is always evolving, and we think it's time for an update on all the most recent features.
Fax
Modern VoIP does more than just make calls, it also receives faxes. Why would a business be interested in this seemingly outdated service? A significant portion of businesses, government bodies, and medical facilities still use some form of fax service to send and receive physical documents. If a customer or vendor prefers to send you a fax, most VoIP solutions are equipped to receive and convert fax documents into a PDF file.
Interactive Voice Response
The new VoIP feature allows businesses to route their calls to the correct client's or staff's number. This feature helps to reduce the use of mass cold calling and unwanted calls, saving the businesses' time and money, and enhances proper service delivery to your clients. VoIP systems promote minimal routing calls, increasing your employees' ability to work well.
Spam Call Filter
It's election season and that means robo-calls. If you hate them as much as we do, VoIP is one of the best services to eliminate them. Spam filters combine several different pieces of caller data to help you differentiate between potential customers and annoying telemarketers. About as effective as the spam filter protecting your email inbox, this feature is not something we could live without.
Telemarketer Block
Automatic filters are never perfect, and some telemarketers may be able to slip through the fence your filters have erected. Depending on the scope of your VoIP system, you may want to input blocked numbers manually. If you have specific times that your spam filter and blocked call list would become prohibitive, they can be turned off with the flip of a switch.
Network Down Forward
One of the biggest concerns for VoIP solutions is their bandwidth requirements. Users in areas without a robust or reliable internet connection may think they can't reap the rewards of a internet-based communications service. Modern VoIP systems have a feature called 'network down forward' to overcome these hurdles. When turned on, network down forward allows you to send calls to your signal-based mobile devices when your internet is down — thereby guaranteeing customers can always get a hold of you.
VoIP technology has opened up entirely new avenues of what businesses can achieve with their communication systems. Beyond just making and receiving calls over the internet, users can block unwanted callers, receive faxes, and design pleasant hold menus. For any VoIP inquiries, call us today — we're always available.
Published with permission from TechAdvisory.org.
Source.